Renovate or Relocate? 3 Questions To Help You Decide
Does your current home no longer serve your needs?
If so, you may be torn between relocating to a new home or renovating your existing one. This can be a difficult choice, and there's a lot to consider—including potential costs, long-term financial implications, and quality of life. 
A major remodel can be a major commitment. From hiring contractors to selecting materials to managing a budget, it can take a tremendous amount of time and energy—not to mention the ordeal of living through construction or relocating to a temporary residence.
On the other hand, moving is notoriously taxing. In fact, in one survey, 40% of respondents viewed buying a new home as "the most stressful event in modern life."1
So which is the better option for you? Let's take a closer look at some of the factors you should consider before you decide.
1. What Are Your Motivations for Making a Change?
It's possible that some of the limitations of your current home can be addressed with a renovation, but others may require a move. 
Renovate
Certain issues, like dated kitchens and bathrooms, are fairly easy to remedy with a remodel—and the results can be dramatic. In many cases, a relatively minor renovation can significantly increase your enjoyment of your home. 
Other shortcomings can be more challenging to fix but are worth exploring so that you know your options. For example, if your home feels cramped or it lacks certain rooms, you might be able to make changes like installing an extra bathroom, adding a dedicated office, or finishing an attic or basement. You may even be able to build an accessory dwelling unit or extension to accommodate a multi-generational family. 
In fact, many Americans have remodeled their homes to meet changing needs since the start of the pandemic. According to the National Association of the Remodeling Industry, 90% of their members reported increased demand for renovations starting in 2020, and 60% reported that the scale of remodeling projects has grown.2
However, the feasibility and cost of these larger changes will depend on factors ranging from zoning and permitting to your home's current layout. Speaking with an architect or a contractor can help you make an informed decision. Let us refer you to one of our trusted partners to ensure you receive the best possible service.
Relocate
Of course, sometimes, even rebuilding your home from the ground up wouldn't solve the problem. For example, moving may be the only solution if you've switched jobs and now face a lengthy commute or if you need to live closer to an aging family member. 
Conversely, if the shift to remote work has opened up your location options, you may wish to seize the opportunity to relocate to a new locale. A 2022 study found that nearly five million Americans had already moved since the start of the COVID-19 pandemic due to increased flexibility from remote work, and nearly 19 million more were planning to move in the near future for the same reasons.3  
Moving may also be the best option, even when you're happy with your geographic location. A local move may make sense if you're looking for a larger backyard or significantly more space. Similarly, some frustrations—like living on a busy street or a long way from a grocery store—can't be addressed with a renovation. We are well-versed in this area and can help you determine whether another neighborhood might suit you and your family better.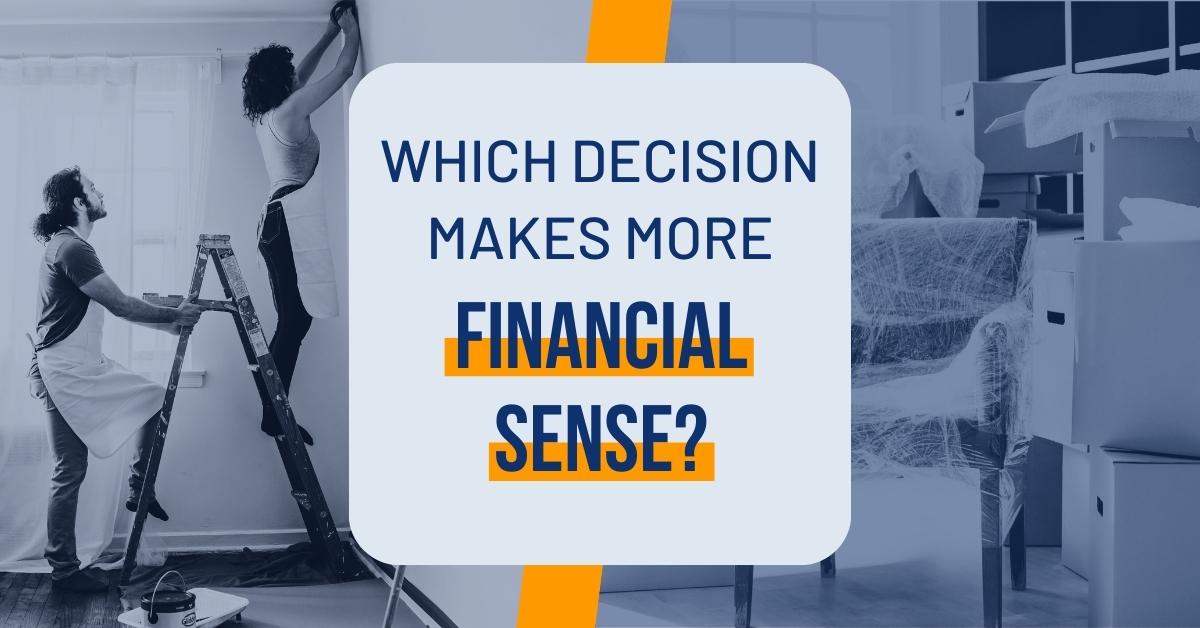 2. Which Option Makes the Most Financial Sense?
Renovating and relocating both come with costs, and it's wise to explore the financial implications of each choice before you move forward.
Renovate
The costs of a renovation can vary widely, so it's vital to get several estimates from contractors upfront to understand what it might take to achieve your dream home. 
Be sure to consider all of the potential expenditures, from materials and permits to updates to your electrical and plumbing systems. It's also prudent to add 10-20% to your total budget to account for unexpected issues.4  If you plan to DIY all or part of your renovation, don't forget to factor in the value of your time.
Renovations can also come with hidden expenses. These might include:
Additional home insurance

Short-term rental or hotel if you need to move out during the renovation

Storage unit for possessions that need to be out of the way

Dining out, laundry service, and other essentials if you can't access appliances at home
Remodeling choices can also impact the long-term value of your home. Some projects may increase your home's value enough to outweigh your investment, while others could actually hurt your home's resale potential. 
For example, although you may enjoy the additional living space, garage conversions aren't typically popular with buyers.5 Refinishing hardwood floors, on the other hand, brings an average return of 147% at resale.2  The specific impact of a renovation will depend on a number of factors, including the quality of work, choice of materials, and buyer preferences in your area. We can help you assess how a planned project is likely to affect the value of your home.
Relocate
The cost of a new home, of course, will vary significantly depending on the features you're seeking. However, you may find that it's cheaper to move to a home that has everything you want than it is to make major changes to your existing one. 
For example, adding a downstairs bedroom suite or opening up a closed floor plan could cost you more than it would to buy a home that already has those features. On the other hand, simpler changes and updates probably won't outweigh the expense of a relocation.
If you're considering a move, speak with a real estate agent early in the process. We can assess your current home's value and estimate the price of a new home that meets your needs. This will help you set an appropriate budget and expectations. 
It's important to remember that the cost of buying a new home doesn't end with the purchase price. You'll also need to account for additional expenditures, including closing and moving costs and the fees involved with selling your current home. And don't forget to compare current mortgage rates to your existing one to understand how a different rate could impact your monthly payment. 
However, keep in mind that the interest rate on a mortgage is typically lower than the rate on other loan types—so you could pay less interest on a new home purchase than you would on remodel.6 We're happy to refer you to a lending professional who can help you explore your financing options.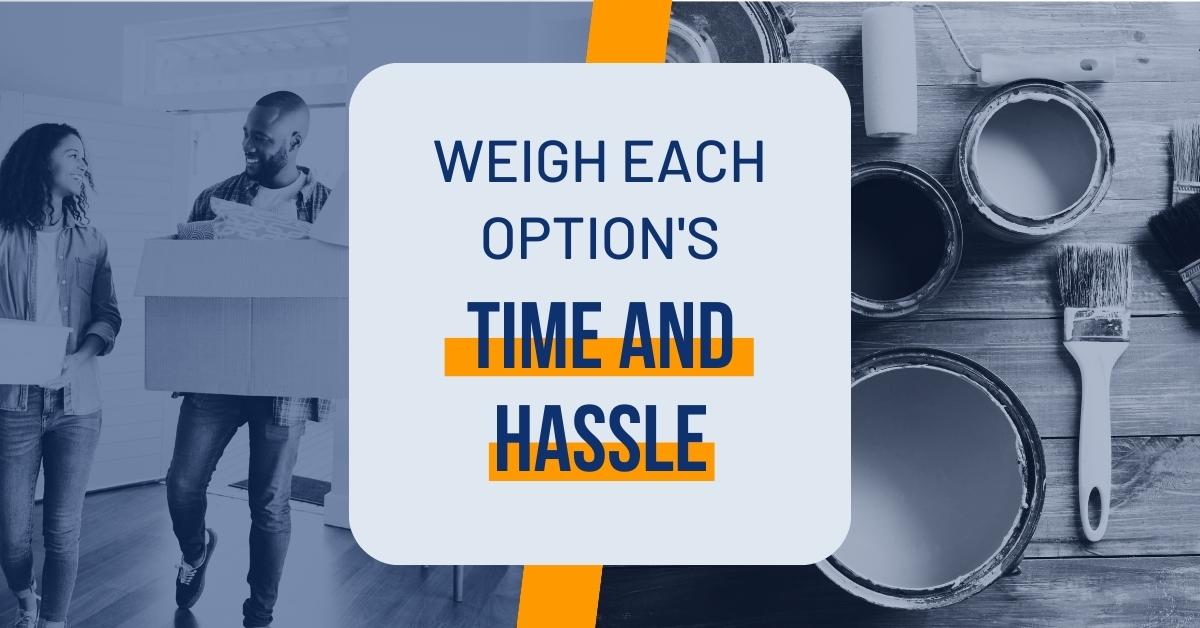 3. Which Option Will Be the Least Disruptive to Your Life?
A final—but critical—consideration is the time and hassle involved with each option since both renovating and relocating involve a significant amount of each.
Renovate
Don't underestimate the time and effort involved in a large-scale renovation, even if you choose to hire a general contractor. You will still need to consider and make a number of decisions. For example, even a fairly basic kitchen remodel can involve a seemingly-endless selection of cabinets, tile, countertops, paint colors, fixtures, hardware, and appliances.
And don't assume that you will get out of packing and unpacking if you stay in your current home. Most renovations—from kitchens to bathrooms to flooring replacement—require you to remove your belongings during the construction process.
The time frame for a remodel is another consideration. High demand for contractors and ongoing material shortages can mean a long wait to get started. And once the project is in progress, you can expect that it will take a couple of weeks to several months to complete.7
Contemplate whether you will be able to live in your home while it's being renovated and how that would impact your routine. For example, being without a functional kitchen for months can be frustrating, inconvenient, and expensive (since you'll need to purchase prepared food). Remember that delays are inevitable with construction, and consider what additional challenges they could present. 
Relocate
Of course, finding a new home and selling your current one also takes a significant amount of time and energy. According to the National Association of Realtors' 2022 Profile of Home Buyers and Sellers, the average buyer searched for 10 weeks and toured a median of five homes.8
However, in many cases, the timeline can still be shorter than a major renovation. Once you find a home that works for you, it typically takes between 30 and 60 days to close if you're taking on a mortgage—and the process is even faster if you're paying with cash.9  Plus, you can look for your dream home without the inconvenience of living in a construction zone.
However, a move comes with its own stress and disruptions. If you're selling your current home, you'll need to prep it for the market and keep it ready and available for showings. Once you've found a place, the packing and moving process takes time and work, as does settling into a new home—especially if it's in a different neighborhood. 
Fortunately, we are here to help make the moving process as easy as possible, if you choose to pursue that route. We can help you find a property that meets all your needs, sell your current one for top dollar, and refer you to some excellent moving companies that can help pack and transport your belongings.
WHATEVER YOU DECIDE, WE CAN HELP
The decision to renovate or relocate can be overwhelming—but this choice also presents a powerful opportunity to improve your quality of life.
There's a lot to consider, from how renovations could impact your home's resale value down the road to your neighborhood's current market dynamics. We're happy to help you think through your options. Get in touch for a free consultation!

The above references an opinion and is for informational purposes only.  It is not intended to be financial, legal, or tax advice. Consult the appropriate professionals for advice regarding your individual needs.
Sources: